Rising Star Award
Local boards nominate and recognize members that have been in the business 5 years or less who promote professional enthusiasm and best exemplifies the Code of Ethics.  To nominate an individual, please contact your local board/association office.
2021 Rising Stars
Brandon Bertsch – Aberdeen
Amber Hoffmann – Black Hills
Nancee Johnson – Central
Seth Sayler – East Central SD
Brittney Neuharth – Huron
Stratton Havlik – Mitchell
Deb Siemonsma – Mt. Rushmore
Amy Anderton – Northeast SD
Tina Beal – RASE
REALTOR® Mark of Excellence Award
Download the Application
The South Dakota REALTORS® has established the REALTOR® Mark of Excellence Award to recognize and promote achievement, involvement and education participation on an on-going basis. To qualify, members complete an application outlining points for various activities. Members receiving 1000 points who have accumulated the minimum number of points in at least four (4) of the eight (8) categories in a calendar year will receive a certificate at the SD REALTORS® Board of Directors meeting in January/February.
2020 Mark of Excellence Award Recipients
Amy Frink—Aberdeen
Nancy Jark—Aberdeen
Lorna Johnston—Aberdeen
Angela Kelly —Aberdeen
Danelle McMasters —Aberdeen
Brittany Smart —Aberdeen
Steve Anderson —Black Hills
Stuart Martin — Black Hills
Cheyenne McGriff – Black Hills
Lisa Mueller – Black Hills
Marty Wilcox – Black Hills
Gayle Chapel – East Central
Seth Sayler – East Central 
Laurie Smith — Huron
Angie Uttecht — Huron
Michelle Maloney – Meridian
Annette Steilen — Mitchell
Micah Volmer — Mitchell
Dorette Clark — Northeast
Doreen Hoium — Northeast
Kyle Lalim — Northeast
Lynn Morris — Northeast


Good Neighbor Award
The SDR Good Neighbor Award is to recognize South Dakota's REALTORS® for their efforts in community and charitable service in helping to make their communities a better place for all citizens. With this award the goal is to encourage individual activity that gives REALTORS® a reputation for being compassionate, involved and sympathetic community members.
The South Dakota Association of REALTORS® will present one Good Neighbor Award at the REALTORS® Convention of the Dakotas. A cash contribution of $1,500 will be made to the charity of the winner's choice.
Download Entry Form
National Recognition for Joy Nelson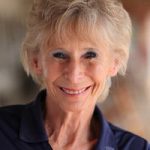 In 2018, SD REALTORS® member, Joy Nelson, was awarded the National Association of REALTORS® Good Neighbor Award. She was selected through a multi-stage judging process as one of five winners to receive a $10,000 grant for her charity. Joy founded Joy Ranch, an ADA accessible ranch in Watertown, offering therapy and education through horse backing riding and other outdoor activities that anyone can enjoy without being limited by medical concerns. Joy also garnished top votes in the public "Web Choice Favorites" and earned an additional $1250 for her charity.
REALTOR® Gratitude Coin
The REALTOR® Gratitude Coin's purpose is for an individual to recognize REALTOR® members who give their personal time, talents and commitment to helping their local community be successful over and above the real estate transaction.
This may mean different things to different people as it is subjective to the individual who is willing to nominate the REALTOR® for consideration. Examples include, but are not limited to, participating in food drives, mentoring youth, volunteering at soup kitchens, purchasing coats or backpacks, etc. REALTOR® members will be recognized throughout the coming year with the REALTOR® Gratitude Coin.
Once a REALTOR® member receives a Gratitude Coin, they are encouraged to "pay it forward" to another deserving individual in hopes to create a continuous chain of gratitude from one REALTOR® to another.
Download Entry Form